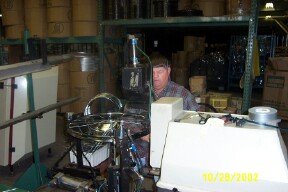 Hi, my name is Richard Obringer. I am the general manager of OBRINGER WHEEL COMPANY. I, along with my wife Rose of thirty years, operate the company. Although our company is only one year old,
I have plenty of experience in manufacturing wheels.
I worked for Huffy Bicycle Corporation for 29 years, fifteen of those years being in the wheel assembly area. The last few years was spent in Mexico, training people to make good quality wheels.
With my experience in wheels, we at OBRINGER WHEEL COMPANY, take pride in making high quality wheels at a fair price. Even though our wheels are manufactured with machines, all of our wheels are hand checked and hand trued before they go out the door to our customers no matter how big or small the order is.
Check out all of our products on the product page to see if we can fulfill all your wheel needs.
We take great pride in building these wheels here in the United States. Looking forward to hearing from you.