The OBRINGER WHEEL COMPANY
has fall specials going on right now.
All of our 16 inch 20 hole wheels are at a low price at $4.00 each
or a pair for $7.00.
They come in three colors: chrome, black and purple.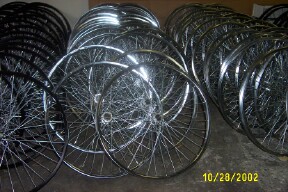 We only have a limited amount of these wheels in stock,
so they will not last long.
We have:
| | |
| --- | --- |
| | 30 pairs of the 16 inch 20 hole chrome |
| | 20 pairs of the 16 inch 20 hole black |
| | 80 pairs of the 16 inch 20 hole purple. |
All these wheels are coaster brakes and front drop center wheels.


We have a special on the 28 hole chrome 20 inch wheels.
They are on special for $4.50 a wheel or a pair for $8.00.
They are all coaster brake and front wheels to match and all are chrome drop center.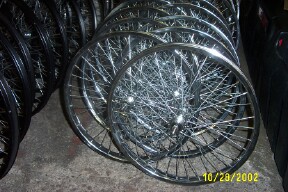 We have 3 - 28 hole 20 inch rear multi-speed rear wheels available.
They are on sale for $3.50 each.
There are no fronts to go with them.

We have a limited amount of 36 hole 20 inch chrome box wheels.
We have 20 free wheel rear wheels and 10 front wheels.
They are all on sale now for $6.50 a wheel.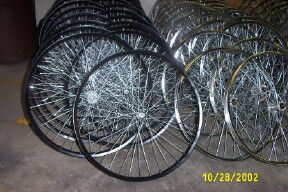 We have many 36 hole drop center chrome and black 20 inch wheels to be
made to your preference. The rears can be made coaster brake, free wheel ,
or multi-speed. The fronts are also 36 hole.
They are $6.50 each.
We have an unlimited supply of these wheels.

We have 24 inch 36 hole black and chrome wheels.
The rear wheels are all multi-speed.
| | |
| --- | --- |
| | 30 pair of the black 24 inch wheels |
| | 28 pair of the chrome wheels. |
These wheels are selling for $13.50 each.
$8.50 each with an order for 5 pair or more.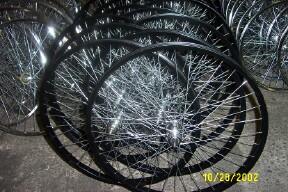 We take great pride in our 26 inch wheels.
They sell for $18.00 each or $9.00 each if you order more than 10 wheels.
We have them in chrome or alloy. The alloy wheels are $5.00 a wheel more. We have them in stock at all times due to the large quantity of orders we receive.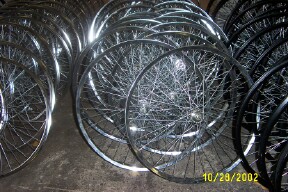 We also do a 64 hole 20 inch wheel.
They are $25.00 each or $45.00 for the pair.

We do the 700 series wheels as well as any special order you might need.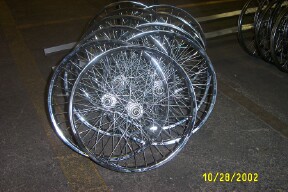 We do wheelchair wheels and cart wheels.
All of the wheels can come with the standard hubs or the quick release hubs. Just give us a call or drop us an e-mail and we will see what we can do for you.

* Shipping and handling is not included with the price.